USA Dedicated Server Plans
High-performance servers with full control
Chicago - USA
Processor
RAM
Storage
Frequency
Bandwidth
Network
cpu benchmark
Price
Intel Xeon E3-1230 V6
16GB
1TB HDD
4C / 8T

@3.5 GHz

30TB
1Gbps

$104/month

ORDER
Intel Core i7-7700K
32GB
250GB NVMe
4C / 8T

@4.2 GHz

30TB
1Gbps

$119/month

ORDER
Intel Xeon E3-1270 V6
32GB
256GB SSD
4C / 8T

@3.8 GHz

30TB
1Gbps

$134/month

ORDER
Intel Xeon E3-1230 v6
32GB
1TB HDD
4C / 8T

@3.5 GHz

Unlimited
10Gbps

$366/month

ORDER
Dual Intel Xeon E5-2620
32GB
256GB SSD
16C/32T

@2.1 GHz

30TB
1Gbps

$216/month

ORDER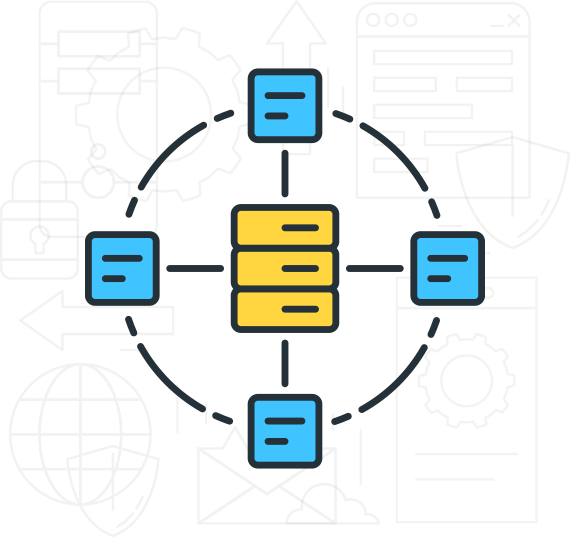 DEDICATED SERVER TECHNICAL SPECIFICATIONS
Every dedicated servers assure:
Nevertheless:
ADVANTAGES OF A DEDICATED SERVER
Full Control Over Powerful Hardware Get a high performance single tenant Bare Metal server.
BASIC FEATURES
Basic of dedicated server, prerequisite ingredient of your success.
ADVANCED FEATURES
Advanced features for Advanced you. We compete to be in sync with your evolving needs.
OPTIONAL FEATURES
You may need or may not need. We let the choice rest with you.
Difference between shared RDP, Virtual Private Servers (VPS) and Dedicated Servers
RDP, VPS and Dedicated Servers have their own fan following. Although use case determines the suitability here are guides which could help you decide the right solution to your needs.
| | Shared rdp | VPS | Dedicated servers |
| --- | --- | --- | --- |
| Reboot | | | |
| Reserved RAM | Shared | Reserved | Exclusively Reserved |
| Root access | | | |
| OS Reinstallation | | | |
| Performance | Equatable shared | Mid - High | High |
| Scalability | Limited | High | High |
| Security | Mid | High | Very High |
| Configurability | Highly Restricted | Mostly Unrestricted | Unrestricted |
| Dedicated IPs | 1 (shared) | 1 | 1 |
| Additional IP | | | |

TALK TO OUR AWESOME TEAM
"Doubt destroyer" this is what we are fondly referred as by our beloved customers. Want to know why?
LET'S TALK
MAIL OUR DEDICATED SERVER SPECIALIST
Are you still puzzled? Let our dedicated server specialists help you.
Mail Us
FREQUENTLY ASKED QUESTIONS
It is practically next to impossible to answer all your questions in FAQs. We tried our very best to accommodate top ranking questions below. So feel free to connect with us if your question remains unaddressed.
Physical server that's dedicated solely to you. Therefore, you're given incredible flexibility over how you want to manage your hosting. You can configure your server as you wish, choose the operating system and software you want to use, and set up the whole hosting environment according to your own needs.
With shared hosting, you're sharing one server with other clients. Websites hosted on the same server share all its resources, such as memory, computing power, disk space, and others. While dedicated server is just as powerful as owning your own on-site server with much powerful configuration.
Possibilites are infinite so it is futile to brief in words.
Dedicated resources reserved for you
Freedom to decide your hosting environment
Ability to handle heavy traffic
Much more computing power
High reliability and security options
The usual delivery time is within 6 to 24 hours to deploy your server. Sometimes it takes maximum of 1 to 4 working days.
Smaller RAM size vs Higher RAM size
Virtual core vs Exclusive core
Smaller hard disk vs Larger hard disk
Less computing vs High computing
Ideal for mid use vs Ideal for higher use
We operate in Top TIER Los Angeles, Dallas, Chicago, San Jose and Miami Datacenter.
Check our
"Terms of Services"
for better clarity, briefly
Prohibited Actions -
The scanning of foreign networks or foreign IP addresses
Manually changing the hardware address (MAC)
The use of fake source IPs.
Child pornography (Adult porns are allowed)
High cost, more oriented towards larger businesses.
Technical and server management knowledge is a must.
Although we provide basic support for our clients which goes beyond issues related to Boot, Network, Hardware, Login and Re-installation of the OS, the dedicated servers are unmanaged and the client is responsible for their own operations. We remain committed for any hardware related issues.